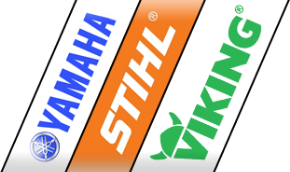 ALLCUT POWER PRODUCTS 2016
A regular service and home maintenance regime cuts fuel consumption and emissions, extends engine life and improves performance.
Here are some simple checks to carry out at home:

Start by cleaning your tools. STIHL has special cleaners and solvents for the purpose.
Look for signs of wear or damage, and even inhabitants (engine compartments make nice nesting places).
Check moving parts are secure and balanced - blades and cutting tools in particular.
Clean spark plugs and check the gap.
Check sharpness of blades and lubricate.
Lubricate gear units and clean/replace air filters.
Drain any fuel over two weeks' old. Re-fill with fresh fuel to the correct ratio.
To change the oil, a short burst on the engine will stir up any sediment and warm oil will flow out more easily. Turn the engine off before draining into a container for proper disposal. Re-fill before use.
tip of the month march
A lawn can take a lot of pounding, but we still want it to look good. So how should we care for it? See our seasonal hints and tips for lawn care throughout the year.

Quick enquiry
Complete and submit
*
indicates required field.
Contact us:
Tel and address detail:
Office information:
156 Heugh Road
Walmer
6065
Port Elizabeth
South Africa

Contact detail:
Tel: (041) 581-3627
Fax: (041) 581-7959

E-mail:
waldo@allcut.co.za
Using this site means you accept its
terms
| Copyright © 2016 Allcut Power Tools, Port Elizabeth, South Africa.
| website by