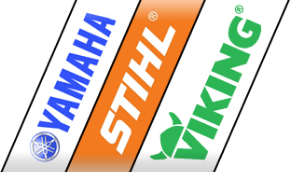 pruning just became awesome!
The new ASA85 Cordless Pruning Shears
Powerful cuts
Immense power, maximum ease: The STIHL ASA 85 easily cuts through branches with a diameter of up to 45 mm. And because its power unit is so energetic, the blades open and close really quickly – delivering an excellent cutting performance.
An enduring performer
A cut above the rest thanks to cordless power: The STIHL lithiumion battery, which is integrated into the carrying system, generates great power and inexhaustible stamina, meaning that the tool can be used for up to 8 hours. Needless to say, the cordless pruning shears perfectly fits into the STIHL battery modular concept. Other STIHL batteries* can therefore also be used with it.
A dependable partner
Excellent workmanship leads to excellent results: The tool's robust aluminium housing optimally protects its interior against particles of dirt, thereby ensuring a long service life.

blow autum away
Using a STIHL Blower
Autumn leaves may be beautiful; but when they start to fall and pile up on the ground they can be a real chore for gardeners. Clearing leaves off the lawn prevents suffocation, letting it rest and breathe for a healthy spring; and whilst leaving them on beds and borders can eventually create useful mulch, they make an unsightly and slippery mess on driveways, pavements, patios and paths.
So what is the best way to clear fallen leaves in areas where you don't want them to pile up?

For a real work-out use a manual rake, or spend a satisfying couple of hours with a leaf blower or vac. Powered leaf blowers and vacuums relieve the strain of clearing drives, pathways and lawns, and the latest STIHL range makes seasonal leaf clearance an absolute breeze.

Each STIHL blower offers its own distinct benefits and with a choice of petrol, electric or battery power there is a model to suit most pockets and scales of garden or task. STIHL vacuum shredders are truly versatile tools, and what sets them apart is that they shred the leaves finely as they gather them up.
One of the quickest and easiest ways to clear leaves off the lawn is to simply run over them with a lawn mower. The lawn mower must have good suction power and be a collecting model (with a box or bag). VIKING lawn mowers and lawn tractors are ideal for the task; their impressive suction performance, ordinarily used to lift grass blades upright for a quick and clean cut, makes them efficient leaf collectors in the autumn.
Blow leaves into a pile before collecting them up with a leaf vacuum or by hand with a pair of rectangular wooden planks for example.
Use collected deciduous leaves to make valuable leaf mould; shred them first if possible to speed decomposition. Put leaves into a black plastic sack and punch a few holes in the side and bottom. When the sack is almost full, sprinkle with a little water, shake the bag and tie it up. Leave it for a year or two (preferably in a shady spot), and that garden waste will become valuable mulch.
For more information, click here to get hold of us, or leave a enquiry and we'll call you... CONTACT US NOW!
ALLCUT POWER PRODUCTS 2016
A regular service and home maintenance regime cuts fuel consumption and emissions, extends engine life and improves performance.
Here are some simple checks to carry out at home:

Start by cleaning your tools. STIHL has special cleaners and solvents for the purpose.
Look for signs of wear or damage, and even inhabitants (engine compartments make nice nesting places).
Check moving parts are secure and balanced - blades and cutting tools in particular.
Clean spark plugs and check the gap.
Check sharpness of blades and lubricate.
Lubricate gear units and clean/replace air filters.
Drain any fuel over two weeks' old. Re-fill with fresh fuel to the correct ratio.
To change the oil, a short burst on the engine will stir up any sediment and warm oil will flow out more easily. Turn the engine off before draining into a container for proper disposal. Re-fill before use.
The new cordless range from stihl @ allcut
One cordless system, four machines - Countless Benefits
The range consists of four machines, a Chainsaw, Blower, Hedge Trimmer and Trimmer. There are 2 batteries that are compatible with the COMPACT range of equipment as well as a charger.
| | |
| --- | --- |
| MSA 120 CHAINSAW | R 3695 |
| FSA 56 TRIMMER | R 2345 |
| HSA 56 HEDGE TRIMMER | R 2855 |
| BGA 56 BLOWER | R 2195 |
| AK 10 BATTERY | R 1345 |
| AK 20 BATTERY | R 1895 |
| AL 101 CHARGER | R 555 |
***ALL prices above include vat and valid until 31 December 2016.



Quick enquiry
Complete and submit
Contact us:
Tel and address detail:
Office information:
156 Heugh Road
Walmer
6065
Port Elizabeth
South Africa

Contact detail:
Tel: (041) 581-3627
Fax: (041) 581-7959

E-mail:
waldo@allcut.co.za
Using this site means you accept its
terms
| Copyright © 2018 Allcut Power Tools, Port Elizabeth, South Africa.
| website by